We produce safely and with respect to the environment

Willing to gain the trust and to satisfy the needs of its customers and consumers, Pernod Ricard Hellas has a primary policy to continuously offer high quality products and services ... always with respect to safety in workplace, environmental protection, the principles of corporate social responsibility ... and always in accordance with national, EU and international laws and regulations.

Since climate is in constant change and natural resources are declining rapidly, the environmental care is becoming increasingly important. Pernod Ricard Hellas puts great emphasis on methodologies for ecological product production, like in environmentally friendly techniques that require fewer natural resources and can reduce energy and water consumption at all stages of production. For that reason, all product packaging is fully recyclable.

Recycling is very important because it significantly reduces emissions of carbon dioxide, the total amount of waste and energy consumption. Pernod Ricard Hellas counts every year its carbon footprint of all its activities with a view to set targets for further improvement. As a result, we may hope for a cleaner environment for future generations.

Certifications

The emphasis on quality starts with the careful selection of suppliers of raw materials. Strict controls take place at every stage of production, from the receipt of raw materials up to delivery of the final product in order to ensure top quality.

Pernod Ricard Hellas has established and certified international management standards for quality, safety, environment and Corporate Social Responsibility and is the only company in Greece in the alcoholic beverage sector, which holds the following certifications.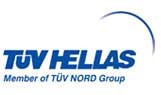 •ISO 22000: 2005 for Food Hygiene and Safety
•ISO 9001:2015 for the Quality of Management on all of the company's levels
•ISO 14001: 2015 for Environmental Management
•ISO 18001: 2007 for Hygiene and Safety in Working conditions
•SA 8000: 2014 for Corporate Social Responsibility
•Kosher Certification for the products ouzo MINI of Mytilene, FIMI, LESVOS


In the framework of the above systems the company invests continuously in the field of quality and environmental management by creating modern laboratories of quality control, new premises, modern bottling lines and biological waste management system.